Newest Books
ITS AVAILABLE: The Klondike Gold Rush Steamers:
A History of Yukon River Steam Navigation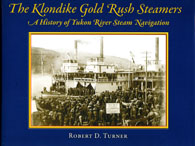 Dear Friends,
Many of you asked that I let you know when my next book was released and I'm pleased to say that The Klondike Gold Rush Steamers, A History of Yukon River Steam Navigation is just out. My 18th book, which is hard to imagine.
This was a fascinating project to work on, and one that I've been collecting material for over many years. It includes the story as it relates to Alaska, the Yukon and Northwestern British Columbia and begins in the 1860s, carries on through the early years of traders, prospectors and trappers to the frenzied years of the Klondike Gold Rush and the building of the White Pass & Yukon railway. By that time steamer services were well established and the White Pass and later the Alaska Railroad became the primary operators in that entire vast region. As a result this is also part of the history of those rail operations. There is a lot of human interest material too, including stories of crew members, travellers, prospectors and adventurers and residents of the region.
The 354-page book features about 600 diverse photos and has an extensive text. It is available in hardcover, is 11 x 9 inches (landscape format) in size and includes extensive references and a detailed index (by Audrey McClellan). Two large colour sections have early colour photos going back to the 1940s. I was really delighted to find this material and to be able to include it. Like my previous books, this one is published by Sono Nis Press in Winlaw, BC. It is always a pleasure to work with Diane Morriss on projects like this. Diane and her father Dick Morriss have been publishing my books since 1977 when Pacific Princesses was first released (it is still in print by the way).
It is available at bookshops, museum gift shops, hobby shops and direct from Sono Nis Press. In British Columbia, Central Hobbies (Burnaby) and BC Shaver & Hobbies (Victoria) both have signed copies in stock. Kelly's Caboose in Kamloops also has them in stock. The link to the Sono Nis website is below and it will take you directly to the book description and ordering information. Sono Nis accepts Visa and Mastercard and will ship the book post paid (free postage) to either US or Canadian addresses. Diane will quote on overseas rates. For direct sales she can also include a signed book plate if desired. Anyone wishing to stock the book for resale at commercial or non-profit outlets can contact Diane Morriss at Sono Nis Press who will be pleased to assist you.
I hope you enjoy the reading the book as much as I have researching it, writing it and bringing it to publication.
Very best wishes,
Bob Turner
1290 Tracksell Ave
Victoria, B.C. V8P 2C9
Canada
VANCOUVER ISLAND RAILROADS
After 40 years of being in print continuously, Vancouver Island Railroads is presently out of print. We are hoping for a new printing, with updates and new material, perhaps as a new edition, in the next year or so. Likely this will require scanning all the original photos as it is harder and harder to reprint using pre-2000 printers negatives to make the plates.